News Alerts
Buzzworthy
Stress Free Holiday Month
We almost had to laugh thinking that December is considered the Stress Free Holiday Month. But, it is. Give your parents some tips on staying stress-free this month.
Morning Meditation
Start a Gratitude Journal
Daily Exercise
Go Nature Bound
Just Say No!
Personalized Gifts Kids Can Make/Give
Christmas is a time of giving. But, there are a number of gifts your small child/preschooler can make/give that are super easy and don't require a lot of store-bought materials or complicated steps.
Motivation Rocks: Gather some rocks/stones from your yard or outside or in your neighborhood. Have your child paint and decorate the rocks. You may wish to write inspirational messages on your rocks and leave them around town: hospitals, nursing homes, WalMart, and even fast food restaurants.
Christmas Cards/Carols: Ask your child(ren) to make Christmas Cards with construction paper, colors or markers, and maybe an attached Candy Cane/Peppermint. Make a few or hundreds...deliver them to neighbors & friends, with caroling to make your loved one's Christmas extra special.
Postcard Santa: Photo on one side (doesn't need to be fancy) and a simple personal message on the other, these are quick, simple and easy to mail out.
Reminders
Safety Reminders - alternate pick-up persons need to please check-in at the office upon arrival. Please do not share door codes.
We are very excited to announce that we have installed new cameras in each classroom! We will be going live once the new admin dashboard is complete.
PLEASE Make sure everything brought to school is labeled with your child's name.
Events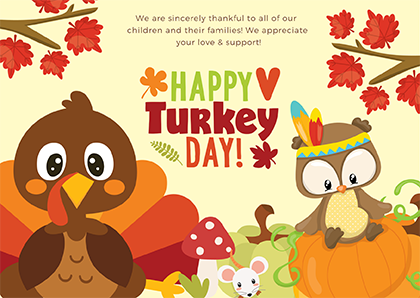 December 13: Nat'l Hot Cocoa Day
December 24: Christmas Eve
December 25: Merry Christmas
December 31: New Year's Eve
January 01: Happy New Year!
Newsletters